RAMEX – Transport and forwarding
Our offer in the field of domestic and international transport is addressed to companies that need access to a proven car fleet seasonally or permanently, as well as to private individuals who temporarily use the possibility of delivering ordered goods straight to the construction site. Comprehensive and efficient service makes it easy for us to be your partner in your business!
An important part of our company is the Department of Transport and Forwarding, dealing with the organization and implementation of deliveries of building materials throughout the country, as well as abroad. Logistics is our strong point, thanks to the experienced team of drivers and transport coordinators. We know how to reach the destination effectively, efficiently, quickly and safely.
Transport and forwarding worth recommending and trusting
The employees of the Transport and Forwarding Department are professionals who respond to the needs of our customers on an ongoing basis. We offer modern forwarding and logistics solutions, we improve the range of services to satisfy even the most demanding contractors.
The Transport – Forwarding – Logistics industry has no secrets for us, because we have been operating on the transport services market for over 26 years. Our experience is combined with corporate responsibility: the strategy of running a company on the basis of an open dialogue with employees and contractors.
RAMEX's mission is to provide transport services of the highest quality. We believe that thanks to this, our clients will gain a competitive advantage and recognition among their contractors. Reliable implementation of the tasks entrusted to us in the field of transport organization has brought us recognition on the market and we can be proud of being a company worth recommending and trusting.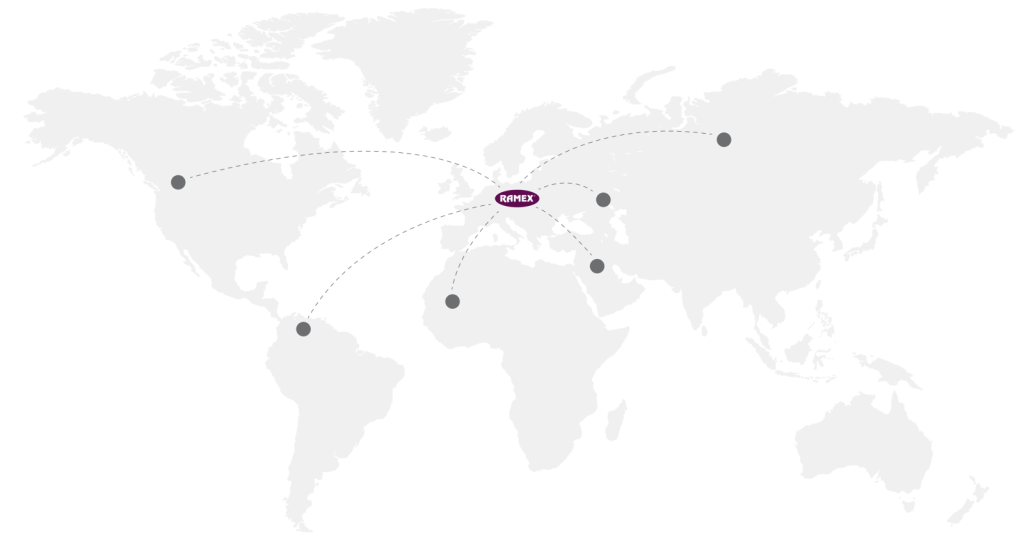 Ramex's offer in the field of transport and forwarding
International transport is a strong point of our company! We constantly adapt to the needs of the market. We cover all Western European countries, but our main market is Spain, in which we have been specializing for years. In international traffic, we have truck tractors with a MEGA curtainsider/tarpaulin semi-trailer with a load capacity of 24 T, 13.6 m2 (LDM). We are not afraid of new challenges and we go wherever there is a demand for our services.
In the offer of our company you will also find domestic transport. In car traffic in Poland, we have vehicles with a tonnage of 1 to 24 t and a volume of 15 m3 to 120 m3. Our cars are equipped with unloading flaps. We also have cars equipped with crane cranes (HDS) with a reach of 6 m to 11 m and a tonnage of up to 22 tons.
To learn more about Ramex's offer in the field of transport and forwarding, please contact us. Our employees will be happy to answer all your questions.
Poznajmy się
Iza Grajner-Ruchała
Personnel and transport specialist

Bartłomiej Janus
Specialist for forwarding and transport